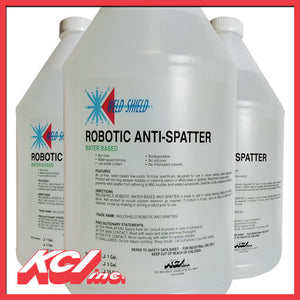 KCI Incorporated
Robotic Water Based Anti Spatter
Regular price
$59.63
$0.00
Unit price
per
Application:
Robotic Water Based Anti-Spatter is an oil free water-based product for use in robotic welding applications. Product will not affect seals and materials used in welding stations. Ready to use, no further dilution required, not affected by freezing.

Composition:
Water based product does not contain any chlorinated (does not contain methylene chloride, 1,1,1-trichloroethane or ozone depleting CFC's). Robotic Water Based Anti-Spatter is not flammable and eliminates concerns regarding hazardous chlorinated solvents. Product does not contain the following as basic and essential chemical constituents: aluminum, magnesium, arsenic, zinc, copper, lead, mercury, cadmium, tin, antimony, phosphorus, bismuth, sulphur, chlorides, or fluorides.

Shelf Life:
Shelf life for this product is five years from the date of manufacture.
---